Available to both free and Premium teachers, the Current Events collection features recent audio stories posted every school day reflecting major news or hot topics. Teaching current events can help students make connections between what they are learning and the world beyond school.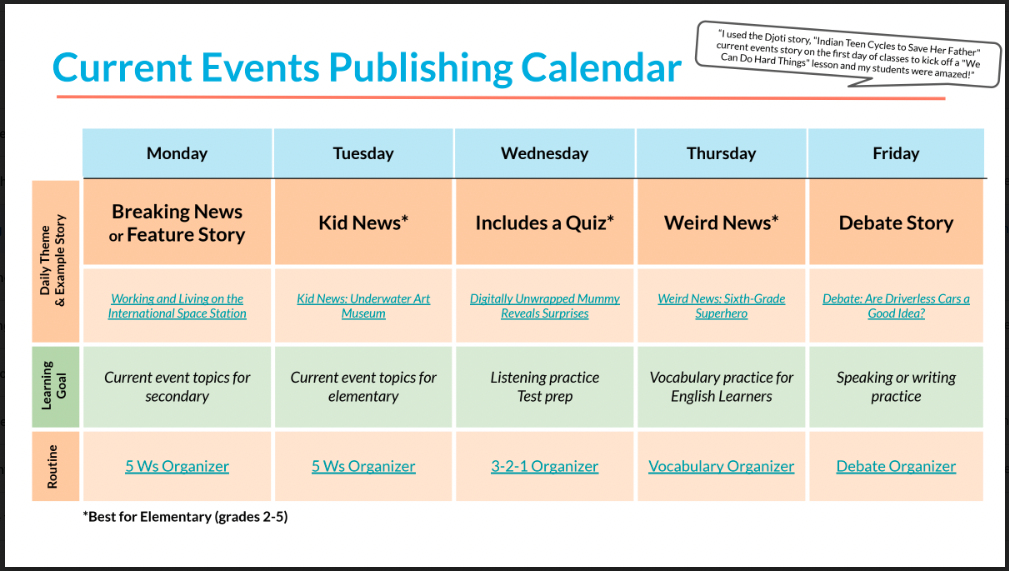 Current events feature themes each week, as outlined in the above chart. Learn more about these themes and a few instructional ideas for using Listenwise Current Events below and download the above chart here.
Kid News Tuesday: These weekly stories cover current events but are curated for younger students and feature children as hosts, subjects, or commentators. Kid News is a great way to discuss news topics with your elementary students. Here is a list of our Kid News stories.
Quiz Wednesday: Each Wednesday Current Event includes a multiple-choice quiz. These stories are typically more lighthearted and good for all grade levels. Teachers love to assign these quizzes for a 10-15 minute asynchronous listening activity. Here's a list of our Wednesday quizzes.
Weird News Thursday: They're quick and quirky stories featuring academic vocabulary (perfect for Elementary and English learners!). Great for a fun and engaging "do now" or "bell ringer" activity.

Here is a list of our Weird News stories

.
We post these 30-second stories every Thursday.
Debate Friday: Friday stories feature an issue being debated in the public sphere. Practice critical thinking and deliberation skills with a class debate or writing prompt. Check out our Friday Debate stories.
Instructional Ideas
: Synchronous, asynchronous, language acquisition, class discussions, writing prompts -- there are so many ways to use Listenwise Current Events! Here are a few ideas to explore:
5 Ways to Integrate Current Events into Instruction
Strategies for Addressing Current Events in the Classroom
Teaching Written Argument with Debate Stories
Facilitating Debates Using Listenwise Stories
CA educator, Jessica Worthy, uses Listenwise in her Technology classroom. Find out how she uses Listenwise debate topics and sets up the listening lesson to support all students: