Yes! Listenwise quizzes align with the Common Core (CCSS) listening and speaking standards and the Smarter Balanced Assessment Consortium (SBAC) Claim #3. This blog post details the alignment for each Listenwise quiz component.
Listening now comprises up to 20% of the SBAC ELA test, so Listenwise is a popular tool to help students prepare for that portion of the test while supplementing the curriculum with engaging podcast content.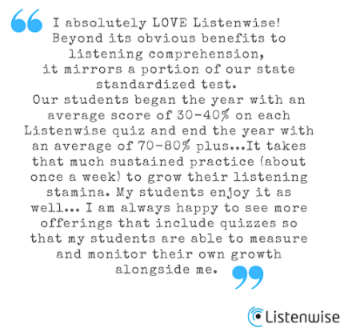 Whether you're looking to improve listening scores on the SBAC, CAASSPP, ELPAC, TELPAS, or WIDA assessment, there are so many strategies for using Listenwise to help students practice their listening skills. Check out these instructional strategies and the teacher story below!
Charmetra Chatmon, an 8th Grade teacher from California, uses Listenwise both as an independent and whole class activity. She uses it for listening practice for the SBAC, as well as annotation practice for the Common Core.