The ELD Lesson Library is a specially curated collection of lessons featuring podcasts and videos designed to develop academic language, build background knowledge, and provide exposure to authentic language in context. They are designed specifically for ELs at lower levels of English language proficiency (beginner and low intermediate). For more about which lessons to use with which students, see this article.
For more, watch this 4-minute tutorial about our ELD lesson library or read about the new features Listenwise has developed to make it easier than ever for teachers to support their multilingual learners at lower levels of English proficiency below:
ELD Library Collection
Discover the ELD lessons from the menu bar or search/browse by topic on the Search page. For more on finding an ELD lesson, see this article.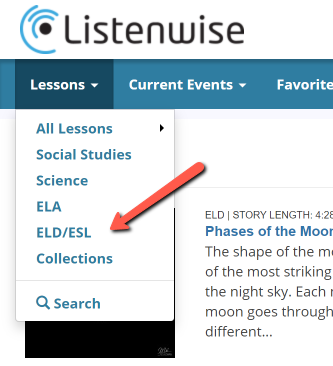 Podcasts Paired with Videos
ELD lessons include instructional videos that can be used before listening to the podcast to activate and build background knowledge. The featured video includes Spanish subtitles and all videos have English captions. While completing assignments, students can switch between English captions and Spanish subtitles as needed.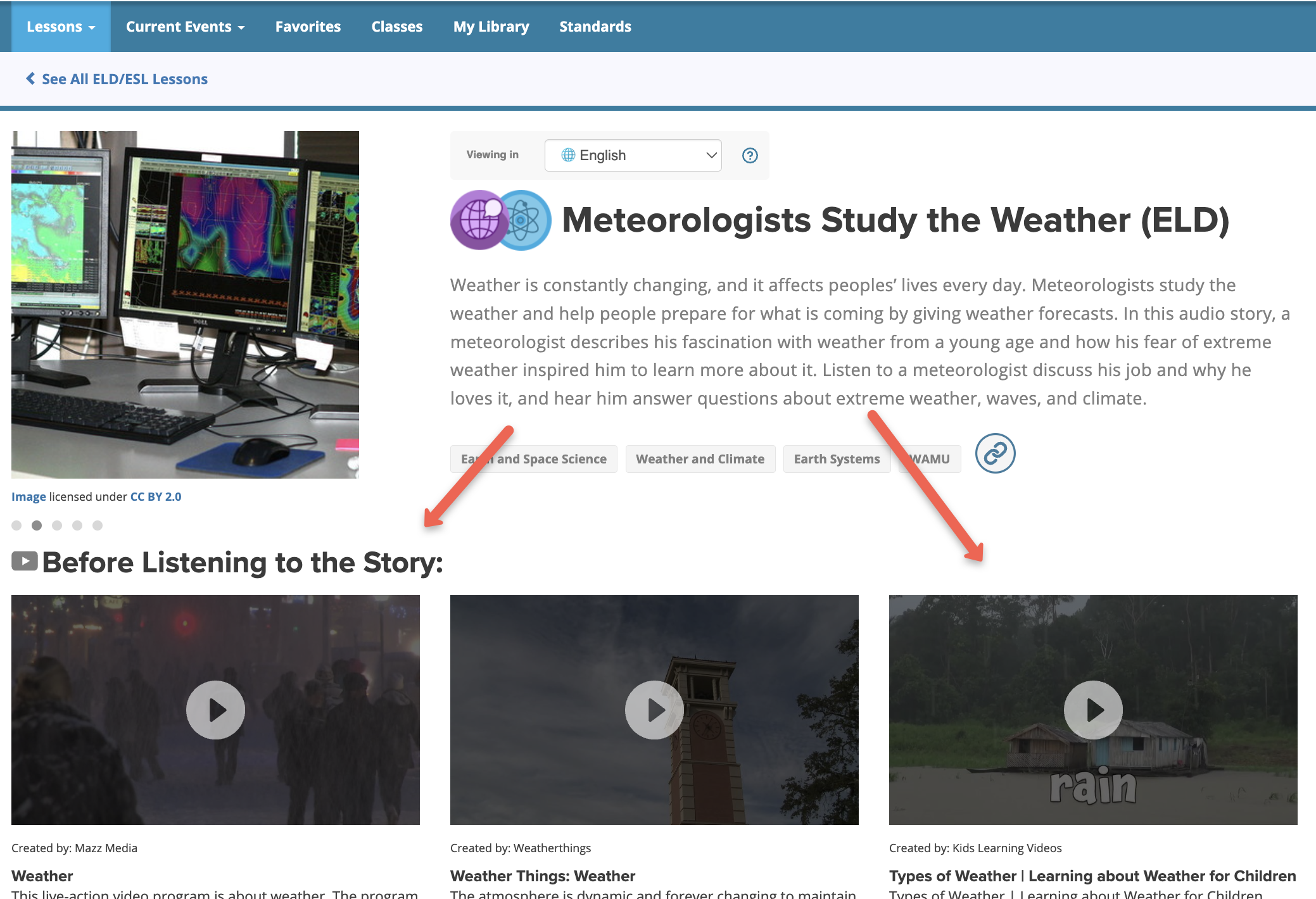 ELD Teacher's Guide
ELD lessons have resources specifically designed for the learning needs of multilingual learners at lower levels of English proficiency. They include protocols to follow before, during, and after students listen to the podcast, noting differentiation opportunities to support students at different proficiency levels for each activity. To help with planning, we offer suggested times for each part of the lesson, though lessons can always be customized to suit specific needs. You can opt to do a "mini-lesson" if you don't have time for the whole lesson. For more on ELD lesson resources, see this article.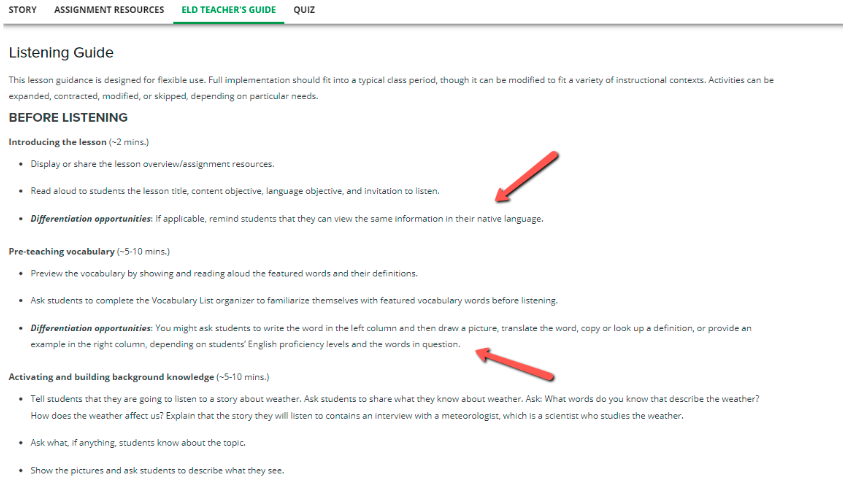 Spanish Language Navigation
Students can switch the language of their Listenwise dashboard from English to Spanish, changing the text on the menu, buttons, search & browse pages, and more into Spanish.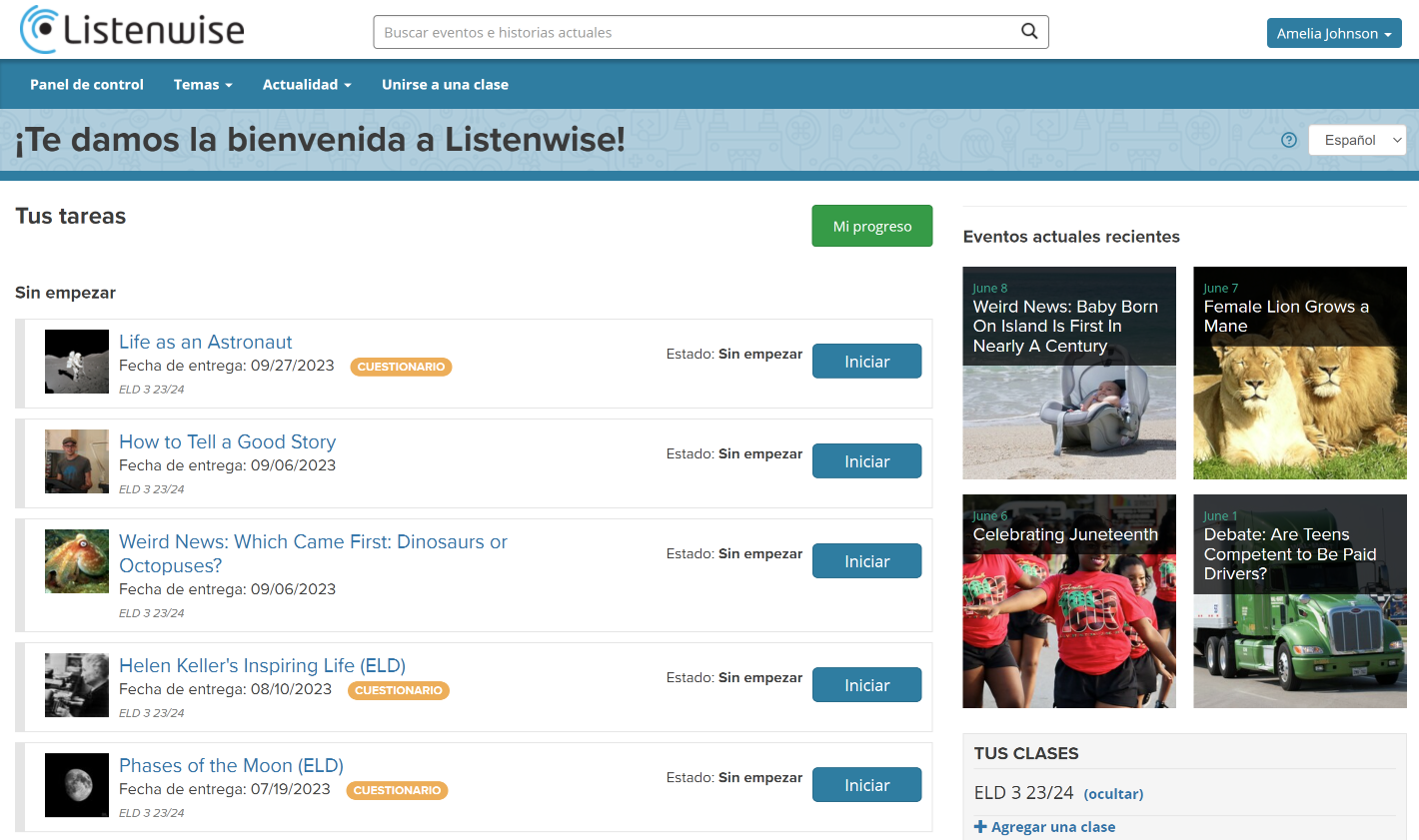 Student Assignment Experience
ELD written assignments are optimized to provide the needed support for multilingual students, including an "accordion" style design to help students focus on each step, and the option to assign up to three close listens, among other resources and supports. Students can switch between English and Spanish as they complete written assignments. For more on the student experience, see this article.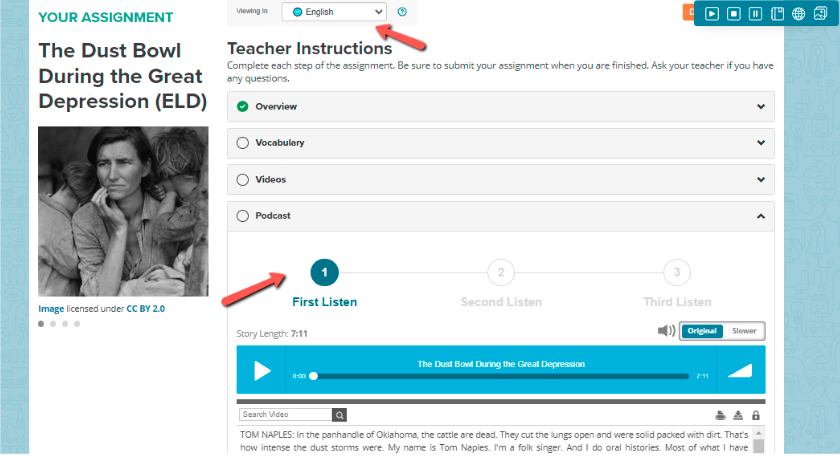 When assigning an ELD quiz to students, you can share the quiz in either English or Spanish. Selecting the latter will provide students with a Spanish translation of the podcast and show the quiz questions in Spanish. The audio will still be in English. All quizzes are auto-graded and provide insight into students' performance on various listening comprehension skills. For more on the student experience, see this article.