When you search for topics, you may see two lessons with the same name in your search results. One is a general education lesson and the other is an ELD/ESL lesson, specially designed for students at lower levels of English proficiency. The ELD/ESL lesson is marked in purple, and the general education lessons are color-coded by subject area (social studies is green, science is blue, and ELA is orange).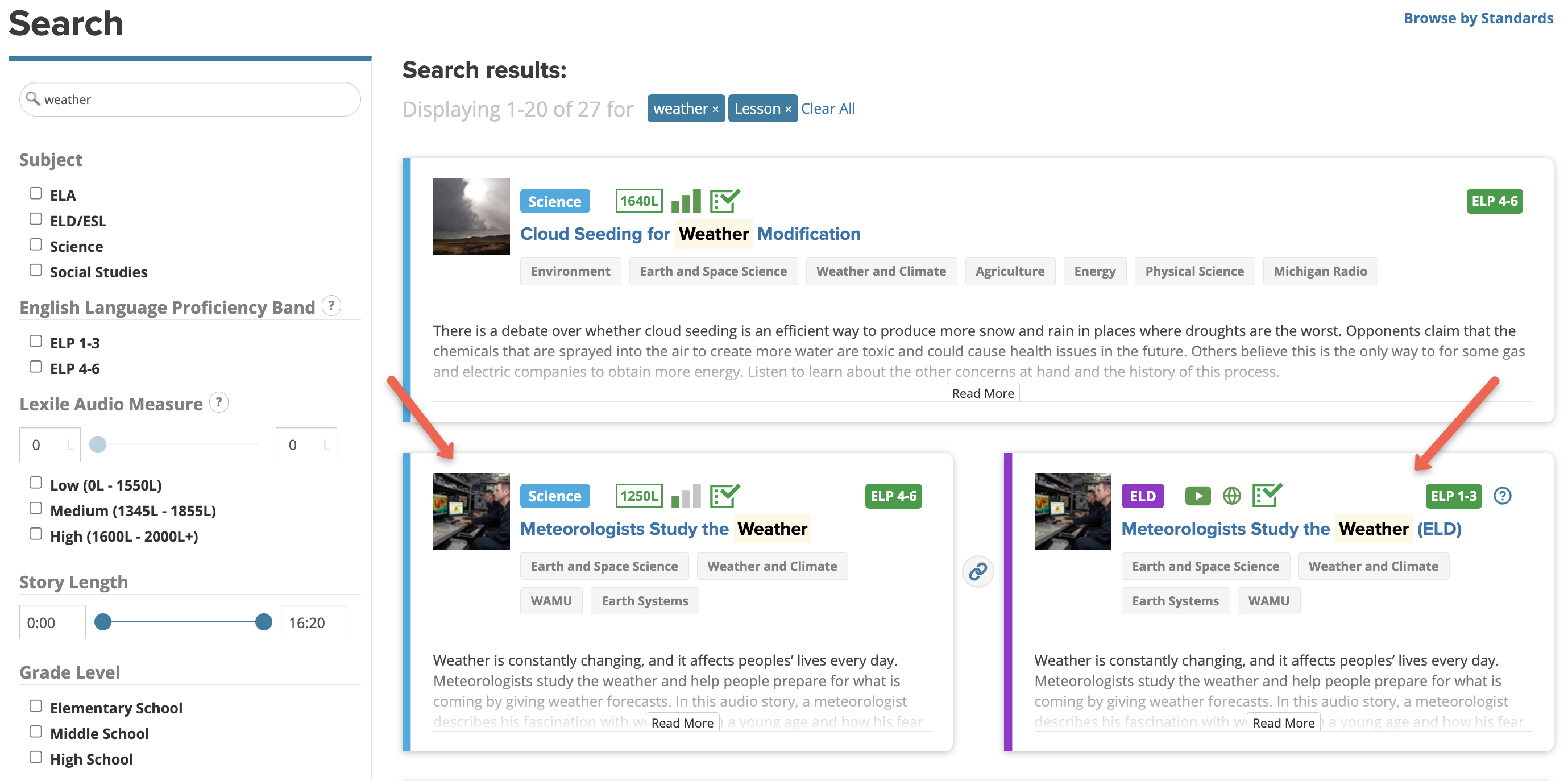 While ELD/ESL teachers have been using our lessons for years, Listenwise now offers a curated collection of lessons featuring podcasts and videos designed for ELs at lower levels of English language proficiency (beginner and low intermediate). These new ELD/ESL are paired with existing general education lessons and will appear in search alongside each other. Learn more about ELD lessons here.
If you teach multilingual learners, the general education lessons still work great for students at higher levels of English proficiency (high intermediate to advanced).
All lessons include built-in scaffolds on the platform, such as interactive transcripts, slowed audio, and on-demand dictionaries. ELD lessons also include native language support on lessons and quizzes.
The teacher's guides for ELD lessons provide additional scaffolding and suggestions for differentiation for various levels of proficiency. In particular, they include content and language objectives, videos to help students build background knowledge, and guidance for three close listens to the audio story, each with a different focus, designed to scaffold development of academic language and content understanding together. Many of the protocols and practices embedded in these lessons will work well to support students at higher language proficiency levels as well and can be used with other lessons as desired.
Teachers with multilingual learners at a range of English language proficiency levels may want to use two different versions of the lessons, each with a different group of students.
The below chart outlines the resources you'll find on different types of Listenwise lessons: