Listenwise has podcasts specially curated for grades 2 through 5! Find out how to use Listenwise resources to bring listening into your elementary classroom:
Literacy Block Activity
Massachusetts 4th grade teacher, Gretchen Hummon, taught the Bird Mystery lesson during her literacy block, connecting to both her ELA and Science curriculum. She activated prior knowledge before listening and then guided students through two listens. Learn what she did throughout the listening lesson here.
Vocabulary Practice with Weird News
Weird News are 30-second stories that are funny, unexpected, and engaging. Each quick story has several highlighted vocabulary words incorporated into comprehension and discussion questions. For example, Cat's Great Escape or Beekeeper Police Unit offers intrigue, humor, and great opportunities to learn academic vocabulary in context.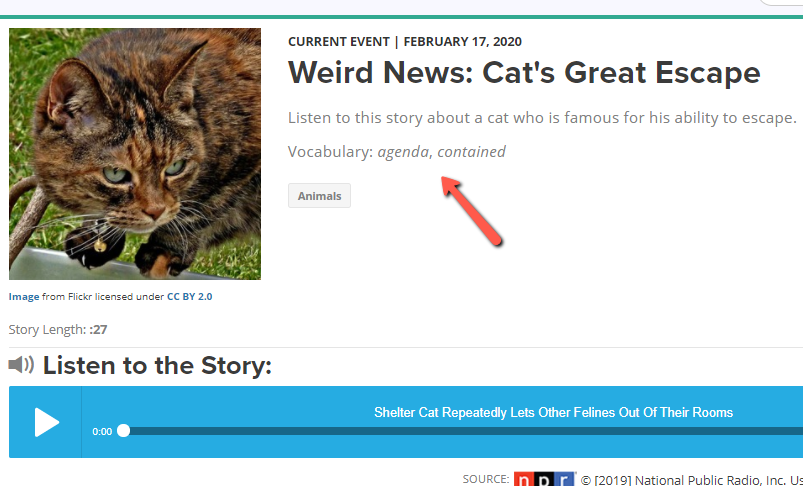 Integrate Podcasts into Elementary Instruction
Listenwise can be used as an engaging synchronous or asynchronous activity with students. Use it for a quick class warm-up or plan for a weekly independent listening assignment for students. Learn about four listening activity ideas along with story suggestions in this blog post.
Speaking and Writing Practice
Extend a Listenwise story into a two-day activity and work on multiple literacy skills. On the first day, listen and discuss the listening comprehension questions as a whole group. For the second day, use the discussion theme to prompt a writing activity. The Debate or Current Event stories are great for engaging your elementary students!
Connect to Your Curriculum
Roxana Castro used the Listenwise story Squirrels are Listening to connect to her ELA unit about animals and observing nature. Learn more easy and actionable strategies for using Listenwise with your elementary students in this 30-minute webinar:


For more help using Listenwise, check out these articles:
For additional ideas, check out these posts on our blog:
Learn about 7 strategies to practice active listening such as Popcorn Storytelling and Simon Says.