Every ELD lesson on Listenwise includes an ELD Teacher's Guide, which can be found under the blue audio bar on the lesson page. This article will detail the resources, including:
Listening Guide
The Listening Guide has suggestions for activities before, during, and after listening. For optimal learner support, we recommend teaching ELD lessons synchronously, with opportunities for students to speak with each other, ask and answer questions, etc.
Before Listening
This section includes activities to introduce the lesson and help activate and build background:
All lessons include vocabulary lists (found on the Assignment Resources tab of a lesson), and this section outlines how to pre-teach this vocabulary before students listen to the podcast. Students can explore digital flash cards and/or fill in the Vocabulary List Organizer to familiarize themselves with key words before listening to the story.
Every ELD lesson includes paired videos (found above the blue audio bar), which we recommend watching before listening to help build background. Videos may include English captions or Spanish subtitles, depending on student needs. Lessons also include multiple pictures, which you can access via the image carousel under the lesson picture.
Throughout the ELD Teacher's Guide, there are "differentiation opportunities" noted that offer suggestions to support students at different English proficiency levels.
During Listening
We provide guidance for three close listens, each with an accompanying listening organizer (found on the Assignment Resources tab of a lesson). You can print the organizers or include them in a digital assignment.
1st listen: Language – Focuses on language and asks students to listen for words in their vocabulary list organizer (example in screenshot below).
2nd listen: Language & Content – Features a cloze exercise organizer and asks students to listen for important words in context and fill in the blanks (example in screenshot below).
3rd listen: Content – Focuses on content and asks students to take notes in a listening organizer to deepen their understanding of the story (example in screenshot below). We include sample responses for these organizers.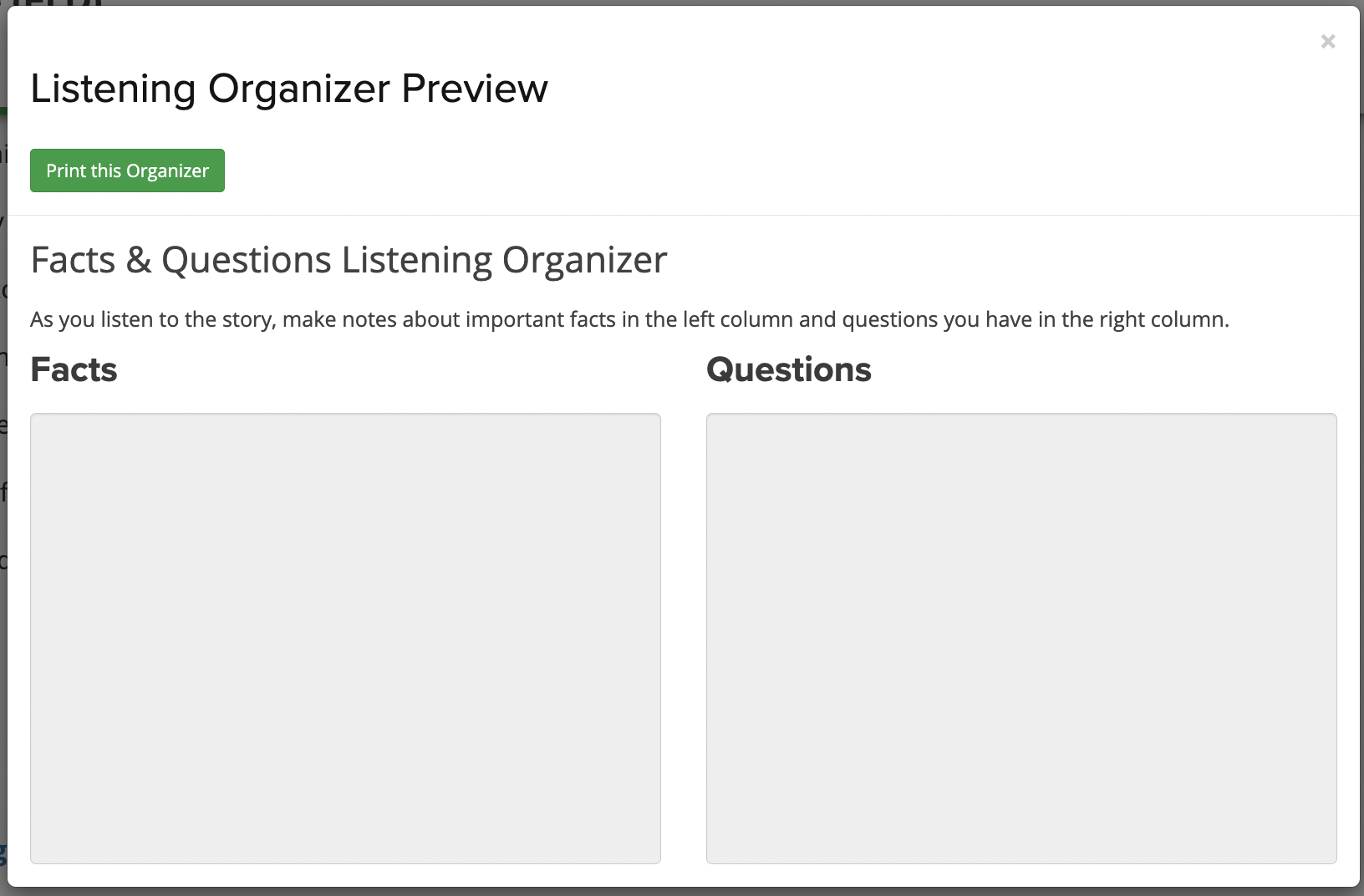 After Listening
This last section includes a reflection protocol to help students practice speaking and working together to answer questions about the story (listed on the Assignment Resources tab of the lesson).
This section also includes guidance for assessing students via a digital written assignment and/or multiple-choice listening quiz on Listenwise.
Standards

We provide alignment to your state standards for ELA and ELL, as well as social studies and science where applicable.