Welcome to Listenwise! Follow the steps below to begin listening to podcasts. For more help on completing an assignment, see these articles about ELD quizzes or ELD written assignments.
Sign into your Listenwise Account
You can also check out this video for an overview of how to use Listenwise:
Sign into your Listenwise Account
1. Go to app.listenwise.com/students
2. Follow your teacher's instructions to login:
Either click Log in with Google if your teacher uses Google Classroom

Or click the

Sign Up Now

button to enter your Class Code and create your account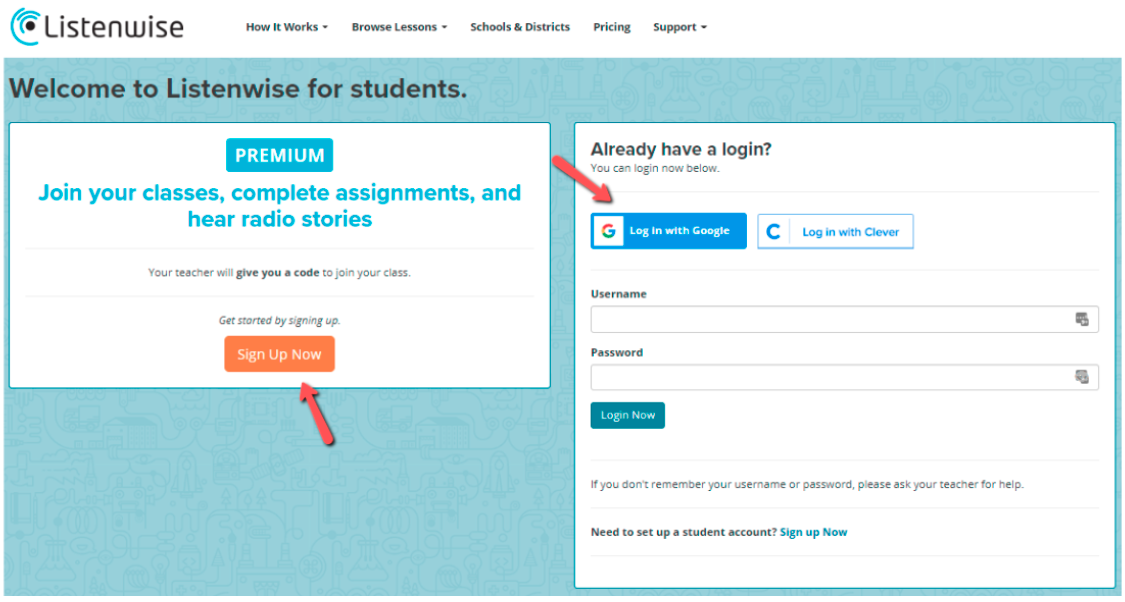 Explore Your Dashboard!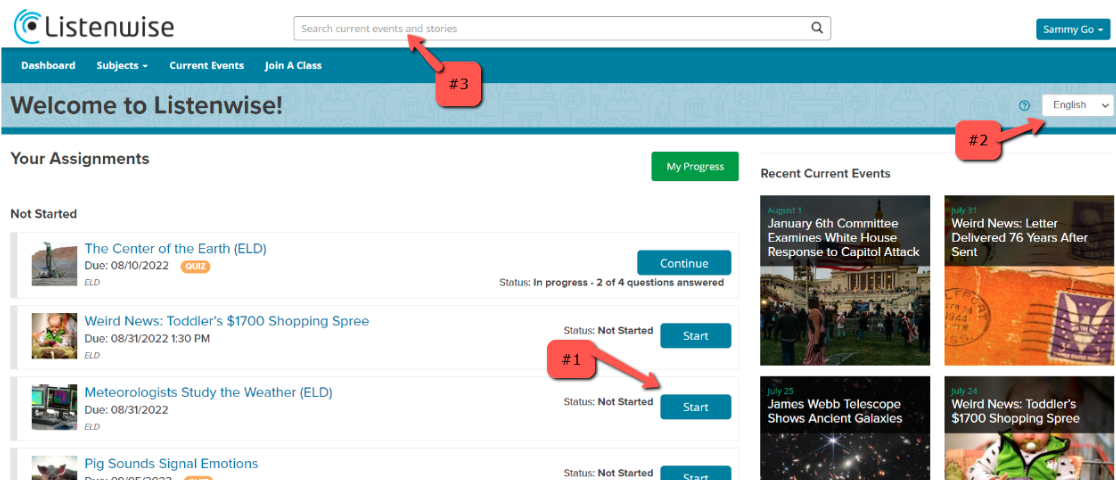 1. Assignments: Any assignments you need to do will be listed on your dashboard. Click Start to access an assignment.
2. Spanish Language Navigation: You can change the language in your account from English and Spanish. If you switch to Spanish, the menus, buttons, and other important text on your dashboard will be translated.
3. Search & Browse: You can search for topics that interest you and listen to podcasts on your own.
Complete a Written Assignment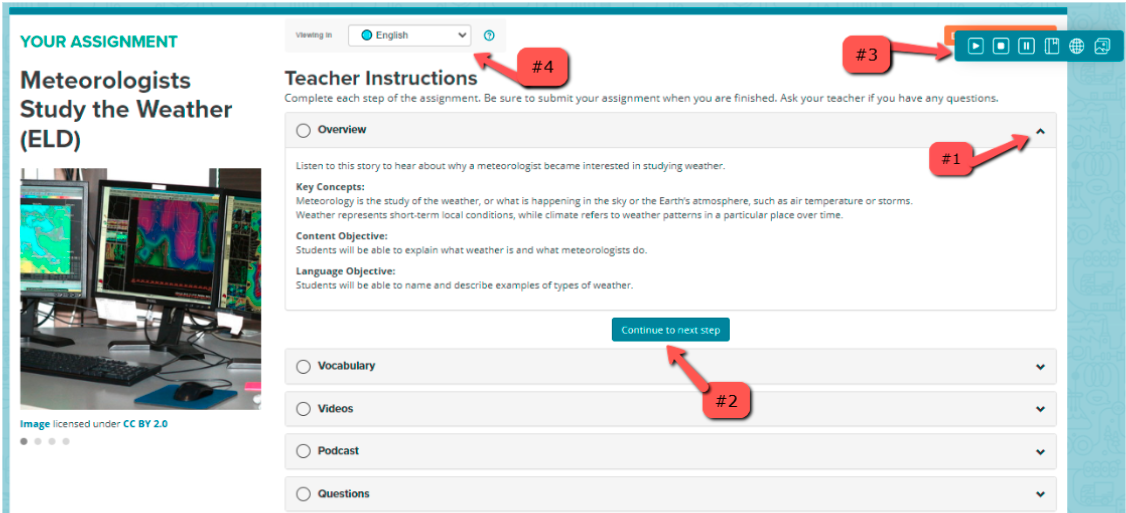 1. Assignment: Click on a section to see the activity. You will watch a video, listen to the podcast, and answer questions.
2. Continue to next step: Once you complete each activity, click Continue to next step to move to the next section.
3. Toolbar: You can have any word on the page read aloud, defined in English, translated into Spanish, or show a picture dictionary.
4. Spanish Translation: You can change all of the text of your assignment from English to Spanish. The instructions, questions, and activities will be in Spanish, but the video and podcast audio will still be in English.
If you want a video overview of completing an assignment, go here.
Take a Quiz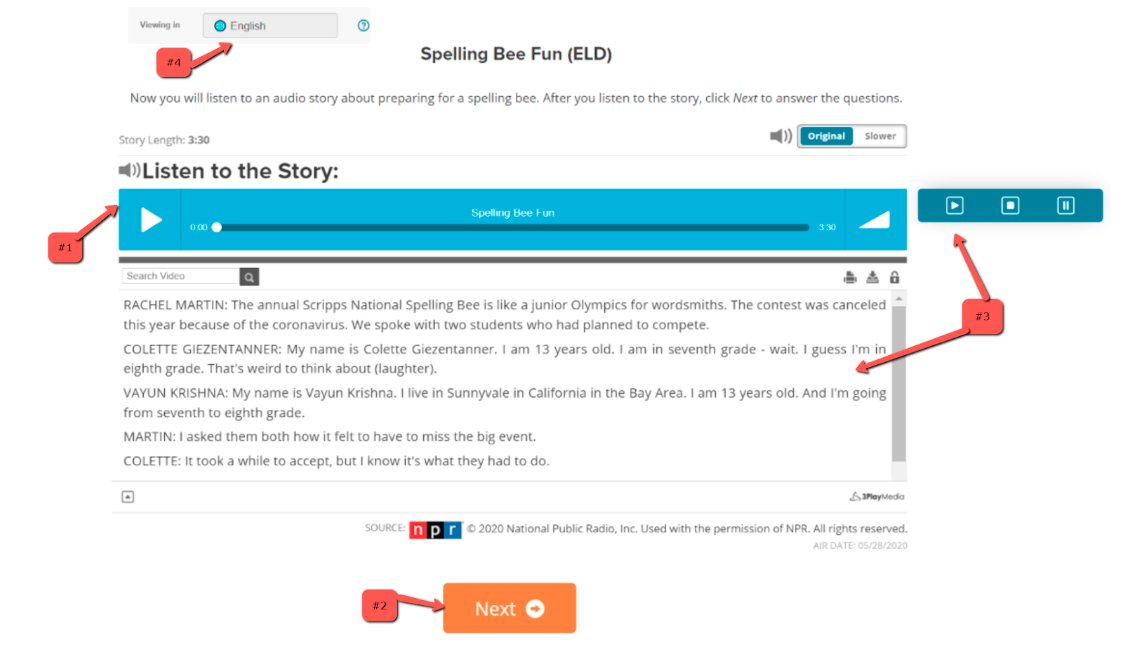 1. Listen: First, listen to the podcast.
2. Quiz: Then click Next to answer the quiz questions.
3. Transcript & Toolbar Supports: Read along as you listen and have any word or phrase on the page read aloud with the blue toolbar. Your teacher may or may not let you see these supports on your quiz.
4. Language: Your teacher will have you take the quiz in either Spanish or English. You cannot change the language.
If you want a video overview of taking a quiz, go here.