Creating a Listenwise written assignment is an easy 3-5 step process that can be personalized to your students' needs!
The video tutorial below walks you through the process and provides a demo of the student experience:
To Create a Written Assignment:
1. On a lesson page, click Create Assignment. Every Listenwise story has this assignment feature available!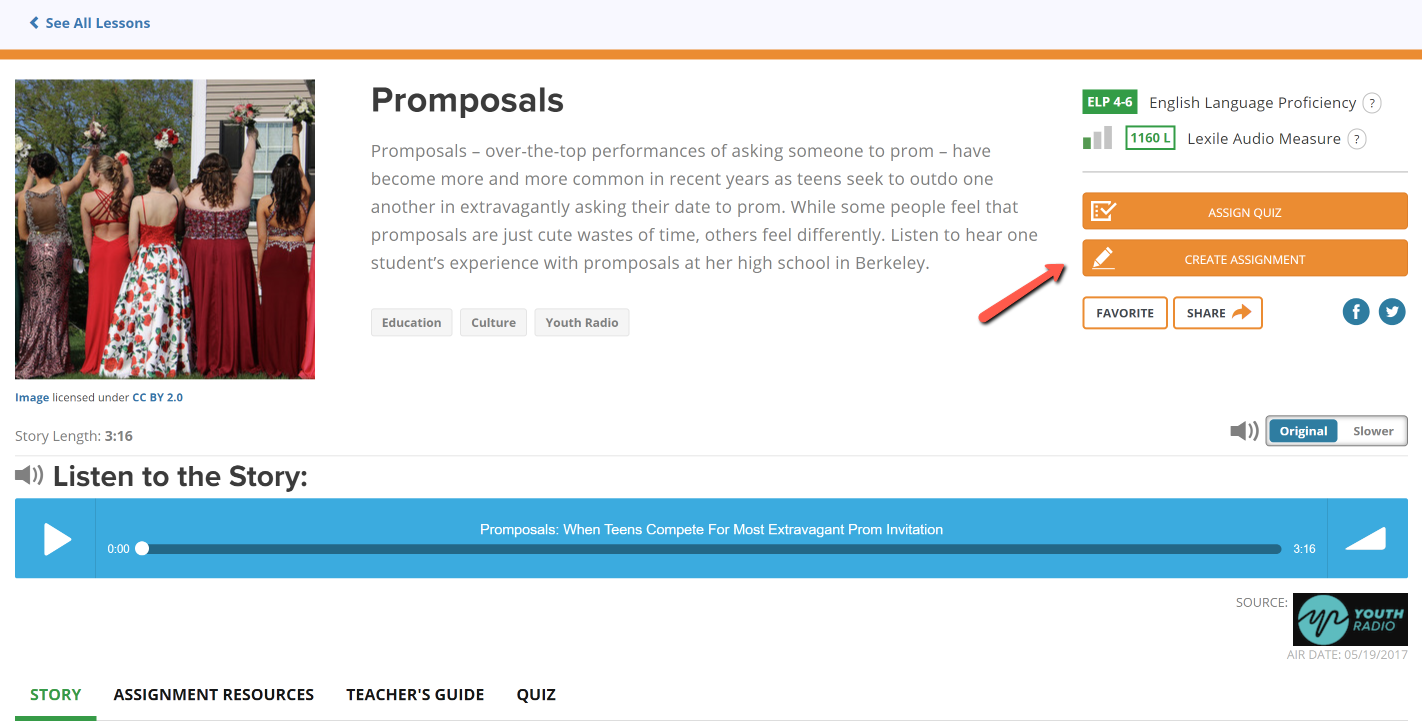 2. Basic Details: First, you need to give the assignment a name (students won't see this name). Then, you can decide to include or remove the interactive transcript, which provides text of the audio as it plays, by checking the Allow students to view and download transcript? box.




In this step, you'll also have the option to include a number of resources, including the Texthelp Toolbar. This feature will read aloud selections of text, provide definitions and picture dictionary, and allow for text translations into 16 languages. Go here for a demo of the Texthelp toolbar.
3. Listening Organizer: Include a pre-made graphic organizer in the assignment from the drop-down menu or keep it blank if you do not want an organizer. Note: Current Events don't offer organizers, so you will not see this step when creating assignments for those stories.

4. Questions: We provide a bank of pre-made listening comprehension questions. You can add, remove or edit the questions depending on your instructional goals and student needs.


5. Materials: Complement your assignment with external links that support a thorough understanding of topics and allow students to further explore topics that interest them. Note: Current Events don't offer external materials, so you will not see this step when creating assignments for those stories.

6. Instructions: Finally, add custom directions to guide your students in achieving your assignment objectives.

7. To complete your assignment, click Save. Now you're ready to assign to your classes!
8. You can assign to multiple classes at once, so check the box next to each class you want to assign it to. You are required to choose a due date for each class. You have the option to assign a time due, as well.

9. The remaining boxes are optional:
Share to Google Classroom

: If you imported your Google Classroom rosters, you have the ability to post the assignment directly to students in Google Classroom.

Date Available

: Schedule your assignment to release on a later date, with the option to add a specific time, as well.

10. Click Assign! You can track student submissions and review student work on the Classes page.
11. Note that you can choose to assign to specific students within a class. Click on the class name to reveal the student roster. From here you can select which students should get this assignment version.