Collections on Listenwise have been improved and expanded!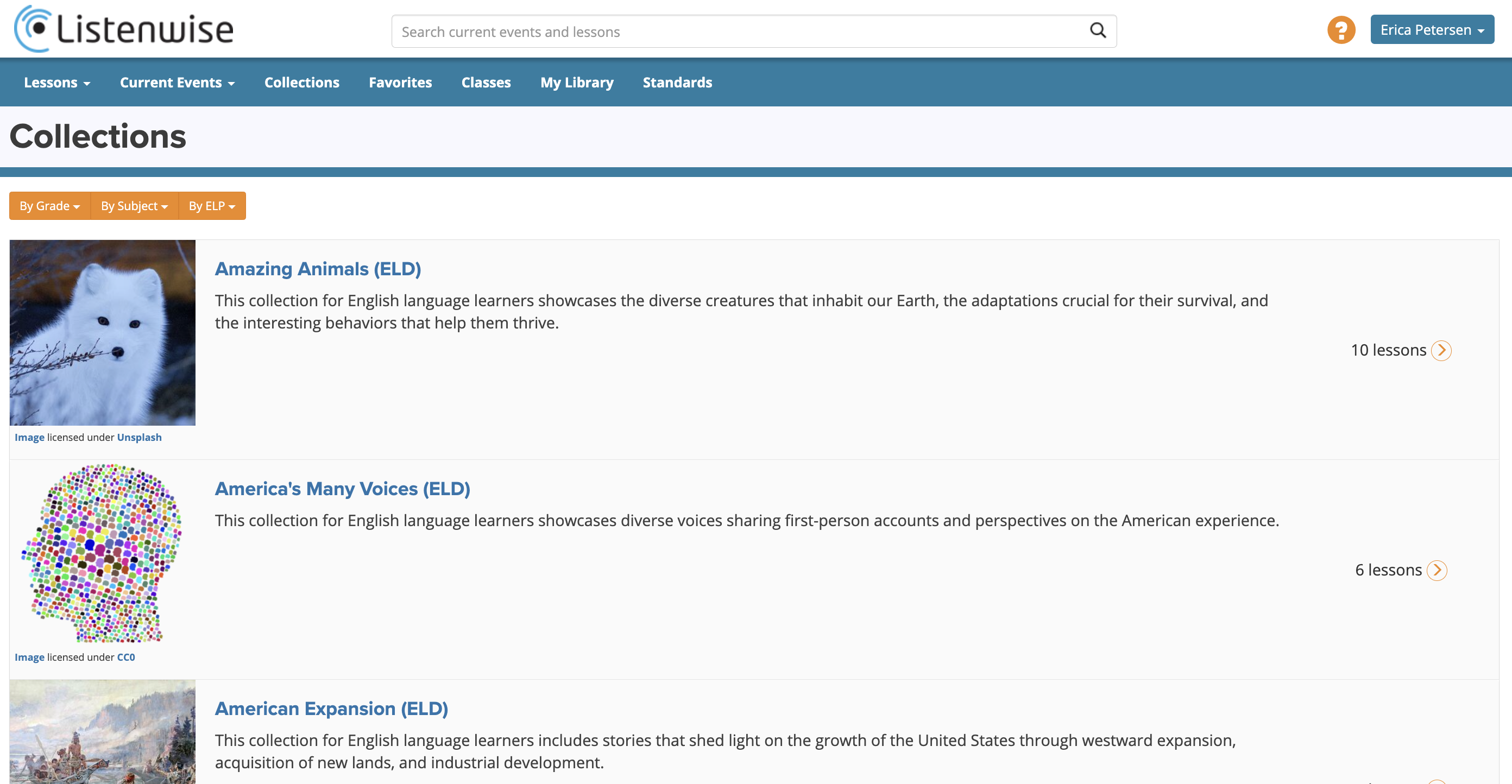 We've curated our best stories about topics and themes you're teaching, making it easier to find Listenwise lessons aligned with your curriculum. There are now many more Collections curated especially for you, and they're easier to find and explore.
This article will show you how to find them and use them in your classroom.
What they are
Collections are highly curated audio "text sets" organized around commonly taught curriculum topics and themes. We now have more than 90 Collections featuring 5-10+ lessons each. Collections have been curated for educators at different grade levels to use in teaching ELA, ELD, social studies, and science, so there's something for everyone! Teachers can find carefully selected curriculum-aligned stories at appropriate Lexile levels in Collections such as Life Cycles for elementary science, Writer's Craft for middle school English language arts, The Civil War, Slavery, & Reconstruction for high school social studies, and Earth & Space (ELD) for teaching students at beginning and low intermediate levels of English language proficiency.
You can browse Collections by filtering for relevant subjects and grade levels and expanding a Collection to see the lessons it contains.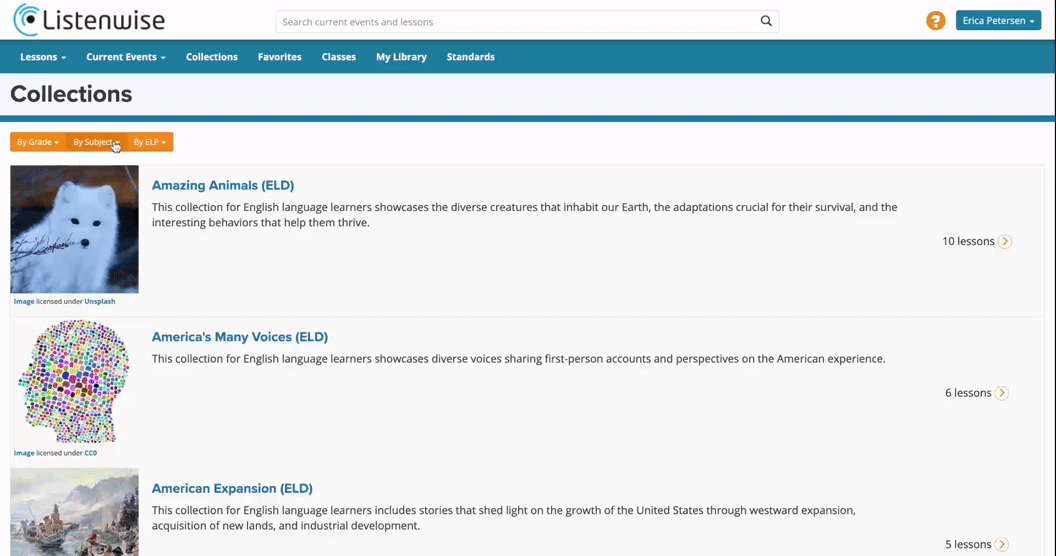 Once you find a Collection you like, you can click into individual lessons to choose which ones you want to use with your students. You may decide to use only one lesson to introduce a unit, or you might invite students to listen to multiple stories. More instructional ideas can be found below.
Where to find them
To make Collections easy to find, we've added a link in the menu bar:

When looking for topics on the Search page, relevant collections will populate in the search results in addition to lessons. You can filter by Collection (under Type) or see relevant Collections when searching by keyword, too.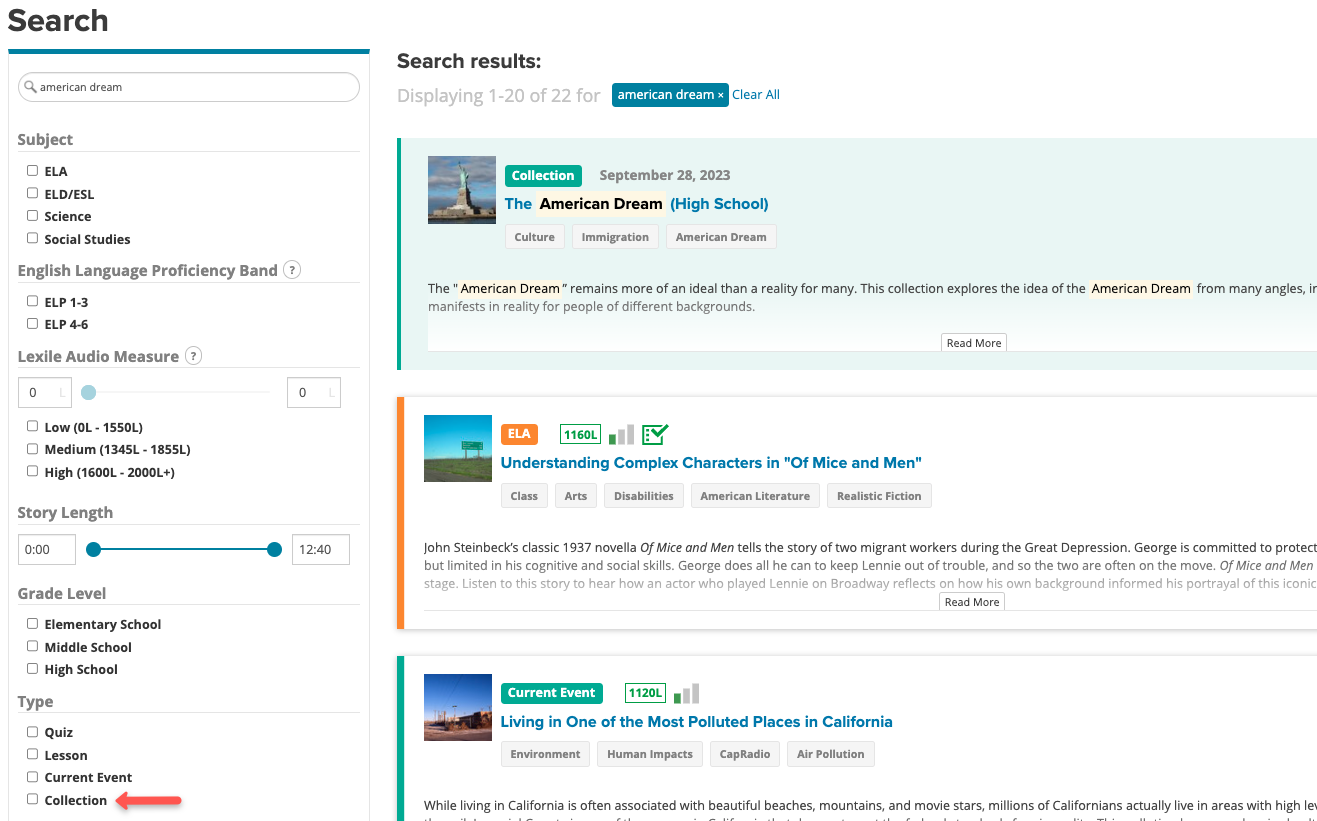 How to use them
Collections can be used in a variety of ways, depending on instructional context.
Here are some ideas to get you started:
Browse a variety of Collections to find new lessons to add to your Favorites.
Select a Collection to accompany a topical curriculum unit, such as Space or Poetry and incorporate lessons into the unit.

Choose one or two favorite stories that fit best with your particular curriculum and students and assign them to the whole class.
Assign different stories to small groups of students and facilitate a jigsaw activity where they teach each other what they learn.
Invite students to choose a story from the Collection, and then create assignments accordingly.

Select a wide-ranging Collection such as Ancient Civilizations or Environment and integrate all of the stories in sequence into the year's curriculum.
Select a thematic Collection like Exploring Identity or The American Dream with a diverse group of stories that address a generative theme. Lessons can be used together to illustrate various angles on the theme and promote critical thinking and deep discussion among students.

Assign several stories from within a Collection and facilitate a discussion about common threads or universal themes.
Ask students to select different stories from within the Collection, assign them accordingly, and then discuss as a group (or through a jigsaw activity) how they are connected to each other and to students' own experiences.

Use stories from an SEL Collection (ELD) in morning meeting or advisory to address social and emotional learning and discuss how particular skills and competencies apply in people's lives.
Select an identity Collection to use seasonally, along with a related novel, or for individual enrichment. For example, a Latino and Hispanic American Stories Collection could be used to find instructional materials to use during National Hispanic Heritage Month, to accompany a novel like Esperanza Rising, or to engage students in reflecting on their own ethnic identities.
Select lessons from an ELD Collection such as America's Many Voices (ELD) to use with lower English proficiency students, in either designated ELD or integrated classrooms, to teach language and content together. Lessons from these collections can be paired with lessons featuring the same story for higher language proficiency students or taught independently.